My life with MS
"As an MS sufferer of 15 years with limited mobility (I walk with two crutches), I was looking for a product that would enable me to get out and about with my young family and give my legs some sort of rehabilitation.
I suffer from significant spasticity in my back and lower limbs. The lack of exercise over many years has made my muscles weak and has really limited their range of movement. I also suffer from tremors in the soles of my feet and ankles, so prior to testing any products I was skeptical as to whether I'd actually be able to use a leg-operated bicycle or not."
My BerkelBike experience
"The beauty of Berkelbike is that it takes significant pressure off the lower limbs when cycling as it combines the best features of a handcycle and a recumbent bicycle (unlike static bikes in the gym). I soon found that i was able to cycle significant distances without getting any painful spasms/tremors.
On top of that, the bike (I have the Pro version) has foot plates with quick release straps and calf supports fixed by velcro. These provide further support to the feet and relieve the pressure on my sensitive legs while keeping them in good alignment. Prior to purchase, I was concerned about the sort of distances/gradients I'd be able to manage being so out of shape. The BerkelBike has 8 gears, and I was pleasantly surprised to learn that this helped make relatively light work of small hills and gradients.
I can regularly manage distances of up to three miles on the BerkelBike after only a month of use, whereas I struggle to walk 100 meters on foot."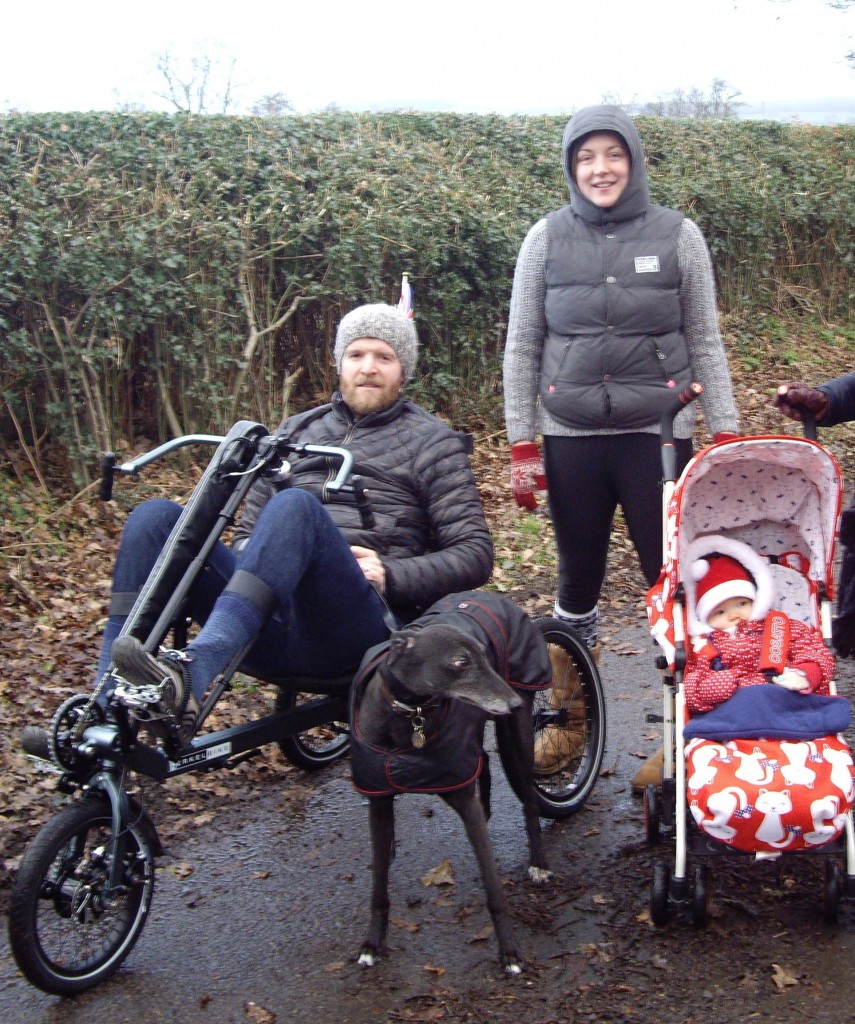 Using the BerkelBike 
"There is a robust parking brake just beneath the gear changer, which also enables the user to rest without fear of rolling backwards. Steering is very smooth and simple with the handlebars, and the brake is applied by reversing the direction of the handlebars. Handling is also smooth and relatively light, though it does take a while to get used to speed when going downhill. The building materials seem really robust, yet it's light enough to be moveable by someone with moderate to significant disabilities like myself.
The bicycle comes in two parts: a front and back section. It is really easy to disassemble for transport with a multi-head allen key, though I've yet to find a way to fit it in our car as we have a daughter and a greyhound so space is at a premium!
I also bought a Tacx Speedbreaker fort he BerkelBike which enables me to use it indoors – perfect for when the weather is poor or I'm just not up to going outside."
BerkelBike has changed my life, for the better
"Though I've only had the bicycle for a month, I've used it every other day since it arrived.  I am already noticing that my lower limbs are significantly more flexible. Cycling with the BerkelBike is also helping reduce my fatigue, which can be such a blight on the everyday lives of MS sufferers like myself.
My legs and arms are obviously tired and achy after cycling, but it's definitely gotten easier to use as the month has gone by. Most importantly, it's allowing me to get out and about in the fresh air with my family.
Indeed, we've already got two family cycling holidays planned this year in Derbyshire and Normandy. Cost-wise, the BerkelBike is a sizeable investment, but already the benefits to me and my family are priceless.
I can obviously only speak from an MS perspective, but I know the product is being used in many different rehabilitation scenarios and I feel that it's well worth a look for anyone investigating the handcycle market."