Bob van der Aa
Bob has non-congenital brain damage, and therefore he is limited in his daily life. Because of the BerkelBike, he is less limited now. He wrote this article with his mother.
This is freedom!
Bob got his BerkelBike two years after the traffic-accident that made him wheelchair-dependent when he was twelve years old. His first reaction was: This is freedom! He can walk his own dog, and when we go out for a walk, he can decide where he wants to go.
We were looking for a suitable bike for Bob for quite a long time. Because he is able to use his legs, we thought it was a shame to buy a regular hand bike.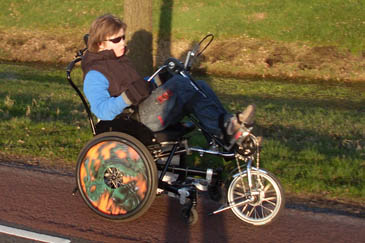 A special kind of bike
A recumbent bike with three wheels was also an option, but we can't transport that with our car.  When we found the BerkelBike on the Internet, we knew that the BerkelBike was what we were looking for. The possibility of using  the BerkelBike as a hometrainer is a great benefit. Now Bob can cycle regardless of  what the weather is like.
The software that comes with the BerkelBike does not work well for us. Because Bob cycles irregularly and therefore is slow on average, the cyclist on the screen moves very slow. This is not motivating for Bob. But just cycling in front of the television is also fun.
Customization helps a lot
We admire all the things that could be changed on the BerkelBike, the grip for his right hand that prevents his hand from slipping away, and the support for his right leg that prevents his leg from falling to the side. It is fantastic to see how they have thought about these things.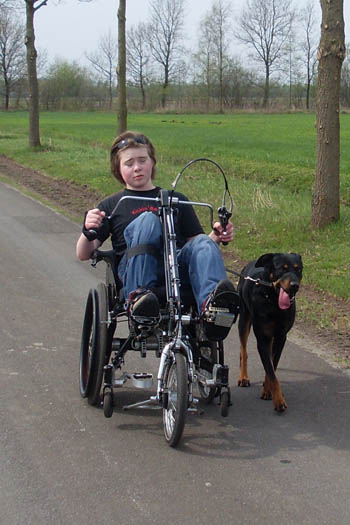 The BerkelBike is an enrichment for Bob, it is a great workout for his legs, but it also gives him the freedom that is necessary for a sixteen year old boy.