Stay fit and healty by cycling on the BerkelBike
My name is Sabine, I am 49 years old, and have had MS since 1985. As I have been in a wheelchair for a few years and so my leg muscles are extremely reduced, I made the decision to do something about it. I had the idea to go cycling. That was easier said than done, as I very quickly realized.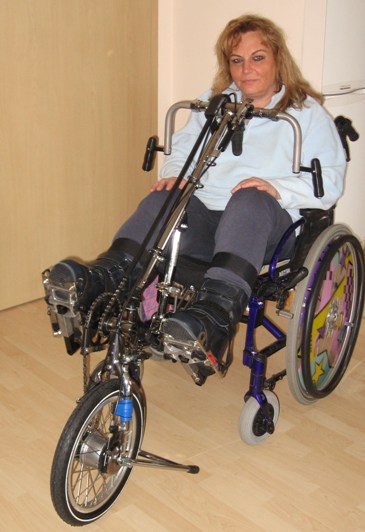 My first experience with the BerkelBike
First I purchased a tricycle. The first problem was to get on, and the second was to turn around the feet. Then I tried a Pedalofit, which is mounted to the wheelchair. Unfortunately, this did not work either. Although I did not have problem 1 anymore, problem 2 was still present.
Then I got the tip to try out the BerkelBike some time. With it, the movement which the legs cannot do alone can be assisted by the arms. After my previous experiences, I was initially skeptical. However, I made a test ride and see – it really works. I was so pleased that I ordered the BerkelBike.
Now I can finally cycle outdoors and with bad weather, transformed to a stationary bike, even indoors.